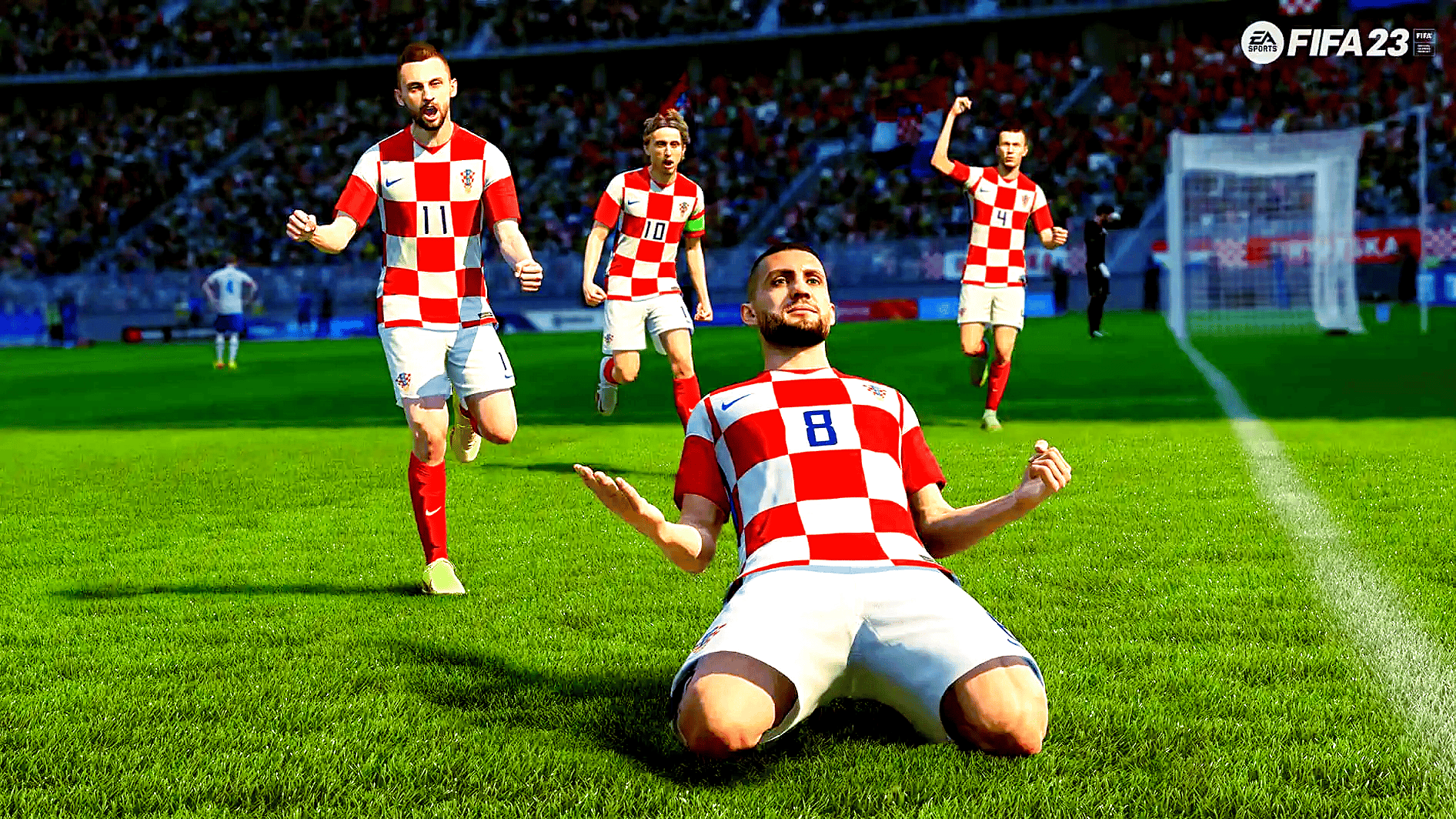 Croatia back in time for the World Cup – FIFA 23 has these licences!
Next to traditional clubs like Juventus Turin also the Croatian national team returns to the football simulation of EA Sports after some years. Leakers are sure that all participants will be playable in FIFA 23 for the World Cup in Qatar.

The release of FIFA 23 is slowly getting closer: The information about the new content of the title from EA Sports is getting denser. During the women's and men's World Cup season, there is supposed to be much more flexibility again, especially with international teams. One of the favourites par excellence is already confirmed for the last FIFA of its kind.
"The moment many players around the world have been waiting for," Marijan Kustić, president of the Croatian Football Association, announced on Tuesday. The latter has agreed a partnership with EA Sports, meaning the 2018 World Cup runners-up will be part of the game for the first time since FIFA 2012.
"The moment many players around the world have been waiting for" – Marijan Kustić, HNS president

HNS and @EASPORTSFIFA reach an agreement to include Croatia national team, the current @FIFAWorldCup runners-up, in FIFA23! 🇭🇷🎮⚽️Family Vatreni❤️🔥 pic.twitter.com/MHx9cIQQ1d

– HNS (@HNS_CFF) August 23, 2022
According to several media reports, the Croatian Football Association had not been able to reach a financial agreement with EA Sports in recent years. Allegedly, an offer of around 100,000 euros was too little for those responsible around former president Davor Šuker, as a result of which the offer from Electronic Arts was rejected. But for the 2022 World Cup year, which will also be enriched this season with the subsequent Women's World Cup, EA Sports seems to want to go one better – at least in terms of licensing.
Leaker announces more national teams
In addition to the officially confirmed return of Croatia, all qualified nations for the 2022 Men's World Cup in Qatar are reportedly in the FIFA 23 line-up. In addition, other favourites are returning. Leaker "FIFA 23 News" reported on Tuesday that Switzerland and Turkey, among others, will also be added. Both national teams were removed for FIFA 22 in September 2021.
🚨 NEW – Nations added in FIFA23

– Cameroon 🇨🇲
– Costa Rica 🇨🇷
– Croatia 🇭🇷
– Ecuador 🇪🇨
– Ghana 🇬🇭
– Iran 🇮🇷
– Japan 🇯🇵
– Morocco 🇲🇦
– Qatar 🇶🇦
– Saudi Arabia 🇸🇦
– Senegal 🇸🇳
– Serbia 🇷🇸
– South Korea 🇰🇷
– Switzerland 🇨🇭
– Tunisia 🇹🇳
– Uruguay 🇺🇾

– FIFA 23 News (@FUT23News) August 23, 2022
Still excluded for FIFA 23 is the Russian national team. Since the Ukraine conflict escalated in February, all gaming publishers such as Electronic Arts have cut themselves off from the Russian Federation. Since April there are hardly any Russian players in FIFA 22. According to the current status, this will not change in FIFA 23.
On club level something prominent happened already a month ago. Because it became known that Juventus Turin with the right name is back in the FIFA series. Due to the three-year exclusive partnership with Konami, the Italian record champion was called "Piemonte Calcio" in FIFA 20, 21 and 22.
Juve is back in FIFA23

🖤🤍 The Bianconeri are officially back in the game as a part of a new partnership between @juventusfc and @easportsfifa Narrated by Juve legend @ClaMarchisio8, this film celebrates a new chapter in the club's story of a great love. Juve per sempre sarà. pic.twitter.com/LExyXe0fML

– EA SPORTS FIFA (@EASPORTSFIFA) July 25, 2022